With the entire world under a state of emergency due to the Coronavirus,  accurate information on the pandemic is critical to those that are not infected or have potential symptoms. Over the past 60 days, the virus has been moving like a modern-day plague around the globe. 
The current Coronavirus is a new strain of teh influenza family. This "Flu" season has been one of teh most deadly, prior to the outbreak. Coronavirus disease (COVID-19) is characterized by mild symptoms including a runny nose, sore throat, cough, and fever. The illness can be more severe for some people and can lead to pneumonia or breathing difficulties. More rarely,m the disease can be fatal. Older people and people with other medical conditions (such as asthma, diabetes, or heart disease) may be more vulnerable to becoming severely ill.
The coronavirus outbreak is now a pandemic, the World Health Organization declared on March 11, as global confirmed cases of Covid-19 surpassed 135,000 worldwide. The outbreak has spread from the Chinese city of Wuhan in late January to 126 countries and territories—affecting every continent except Antarctica—in the course of a month. Efforts to prevent the pneumonia–like illness from spreading further has led to shuttered cities, widespread flight cancellations and shaken financial markets.
CLICK ON MAP FOR UPDATES provided by Bloomberg
PANIC AND GREED
Matt Colvin stayed home near Chattanooga, preparing for pallets of even more wipes and sanitizer he had ordered, and starting to list them on Amazon. Colvin said he had posted 300 bottles of hand sanitizer and immediately sold them all for between $8 and $70 each, multiples higher than what he had bought them for. To him, "it was crazy money." To many others, it was profiteering from a pandemic.
The next day, Amazon pulled his items and thousands of other listings for sanitizer, wipes and face masks. The company suspended some of the sellers behind the listings and warned many others that if they kept running up prices, they'd lose their accounts. EBay soon followed with even stricter measures, prohibiting any U.S. sales of masks or sanitizer.
Now, while millions of people search in vain for hand sanitizer to protect themselves from the spread of the coronavirus, Colvin is sitting on 17,700 bottles of the stuff with little idea where to sell them.
Read more from Source: New York Times/Yahoo
POLITICS
President Trump held a remarkable press conference Friday afternoon. It began with a parade of corporate CEOs who briefly took the podium to explain efforts their companies would take to improve coronavirus screening. But it quickly progressed into a parade of lies, insults, and buck-passing by the president himself.
Trump's core message: All of this is someone else's fault.
At one point, Trump was asked about the admission of Dr. Anthony Fauci, director of the National Institute of Allergy and Infectious Diseases, that our lag in testing was "a failing." And he was asked if he takes responsibility for this failure.
Trump's response: "I don't take responsibility at all."
CHAOS AND TRAVEL ISSUES
CHICAGO – Thousands of people waited hours in line at O'Hare Airport customs on Saturday, apparently because of new coronavirus screening procedures, prompting the governor of Illinois to tweet, "the federal government needs to get it's s@#t together. NOW."
Photos from inside the airport showed massive backups in the Federal Inspection Services facility.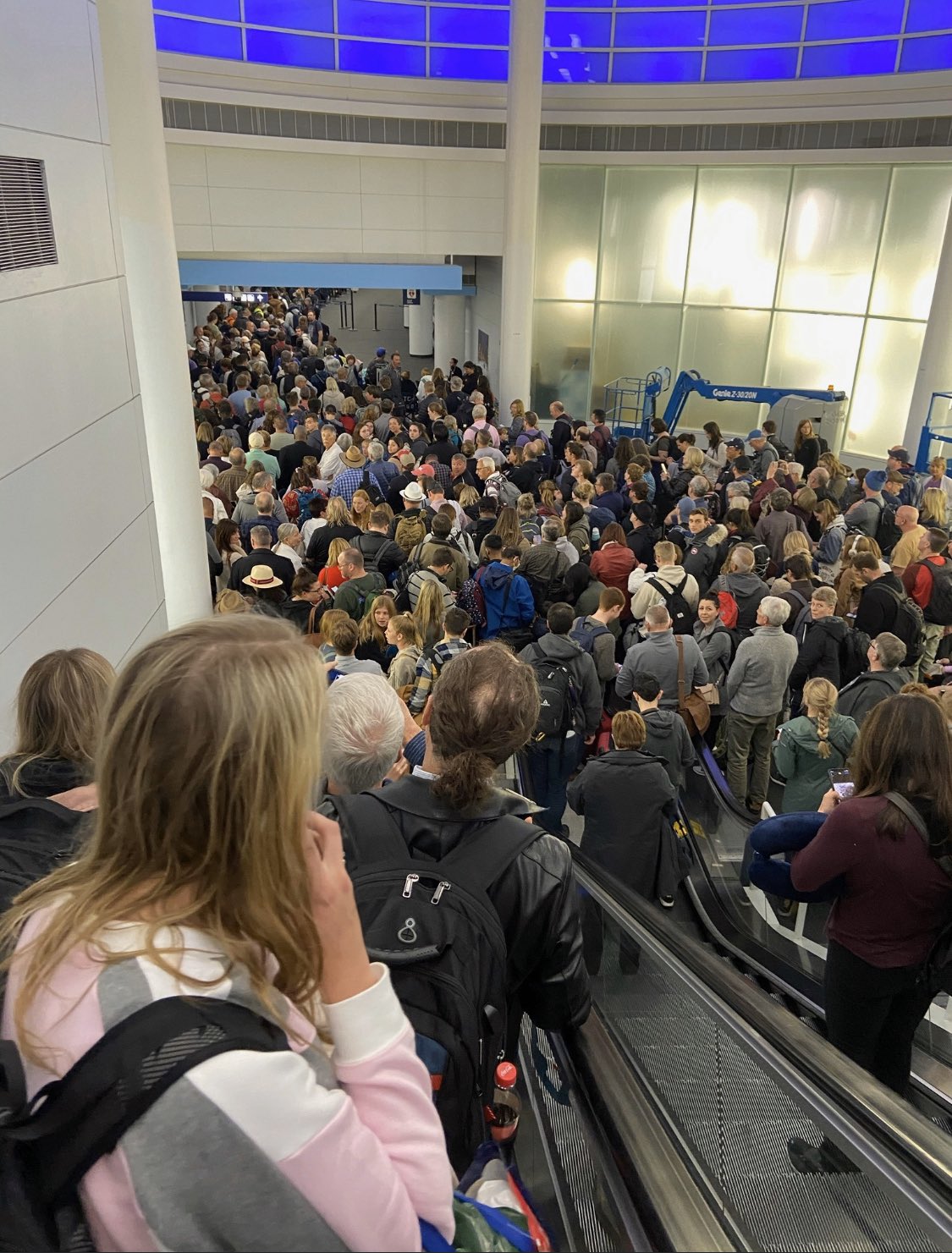 Late Saturday night, O'Hare officials said on their Twitter feed they were working with Chicago Police to distribute bottled water and snacks to travelers. O'Hare also said that they have "strongly encouraged our federal partners to increase staffing to meet demand."
AROUND THE CARIBBEAN 
(Reuters) – Jamaican Prime Minister Andrew Holness on Friday declared the island a disaster area because of the threat of coronavirus infection and said his country is seeking 100 Cuban nurses to help it to cope.
"We are trying as hard as possible to contain the spread of the virus," Holness said on his Twitter account, adding that he was imposing travel curbs on people arriving from Britain.
Jamaica has so far reported eight cases of coronavirus infection. The latest measures to combat the virus outlined by the government include putting part of the island under quarantine and recruiting retired medical professionals.
US VIRGIN ISLANDS
VI Consortium- The U.S. Virgin Islands Department of Health late Friday announced its first confirmed case of COVID-19 disease, the new coronavirus. The territory's first case is a resident with some recent international travel history to one of the five locations with the widespread transmission of the disease.
The case has also been confirmed to be on St. Croix, according to people with first-hand knowledge of the matter.  Health officials said they have been closely monitoring the global outbreak and building capacity to respond to a positive case in the territory."The Center for Disease Control and Prevention confirmed today at 4:00 p.m. confirmed that we now have a positive, confirmed case of COVID-19 disease in the U.S. Virgin Islands.
BARBADOS
Barbados Today: LIAT says it has been advised that a passenger who traveled on one of its services has subsequently tested positive for COVID-19. At the time of travel, the passenger did not present any symptoms at check-in or on board and the passenger tested positive several days later for the virus.
While the assessment from public health authorities is that the risk of exposure is low, LIAT says it has taken immediate measures to ensure the safety of all its stakeholders.
A second case of the novel coronavirus disease (COVID-19) was today confirmed in Guyana, while the results of another suspected case is yet to be disclosed.
GUYANA
This is according to the Ministry of Public Health Public Relations Officer Terrence Esseboom, who told Stabroek News that the patient is the husband of Guyana's first coronavirus victim, who died on Wednesday at the Georgetown Public Hospital. 
The Deputy Chief Medical Officer Dr. Karen Gordon-Boyle told Stabroek News that the husband along with another relative was tested earlier today after they began displaying symptoms linked to the disease.
The main uncertainty in the coronavirus outbreak in the United States now is how big it will get, and how fast. The Centers for Disease Control and Prevention's Nancy Messonnier told reporters on March 9, "many people in the US will at some point, either this year or next, get exposed to this virus."
According to infectious disease epidemiologist Marc Lipsitch at Harvard, it's "plausible" that 20 to 60 percent of adults will be infected with Covid-19 disease. So far, 80 percent of cases globally have been mild, but if the case fatality rate is around 1 percent (which several experts say it may be), a scenario is possible of tens or hundreds of thousands of deaths in the US alone.
"Even if you don't reduce total cases, slowing down the rate of an epidemic can be critical," wrote Carl Bergstrom, a biologist at the University of Washington in a Twitter thread praising the graphic, which was first created by the CDC, adapted by consultant Drew Harris, and popularized by the Economist. The chart has since gone viral with the help of the hashtag #FlattenTheCurve.
Coronavirus is Airborne
The deadly coronavirus is airborne, a Shanghai official has confirmed.  On Saturday it was announced the virus can now spread via aerosol transmission – meaning it can drift through the air for an extended period of time and cause infection if breathed in.
"Aerosol transmission refers to the mixing of the virus with droplets in the air to form aerosols which causes infection after inhalation," Shanghai Civil Affairs Bureau deputy head Zeng Qun is quoted as saying by China Daily.
PREVENTION
The CDC has issued the following facts.
BEWARE OF FAKE DRUGS AND SCAMS 
LOS ANGELES — Federal authorities are warning consumers about fake home-testing kits for the coronavirus after customs agents intercepted a package at Los Angeles International Airport filled with vials labeled as COVID-19 test kits.  Testing for COVID-19, the disease caused by the coronavirus, is only conducted in verified state and local public laboratories across the country.
U.S. Customs and Border Protection says American consumers should be aware of bogus testing kits for sale either online or on the black market.
A Thursday photo released by CBP shows the package containing suspected counterfeit COVID-19 test kits arriving from the United Kingdom. CBP officers discovered six plastic bags containing various vials, while conducting an enforcement examination of a parcel manifested as "Purified Water Vials," with a declared value of $196.81. A complete examination of the shipment led to the finding of the vials filled with a white liquid and labeled "Corona Virus 2019nconv (COVID-19)" and "Virus1 Test Kit". The shipment was turned over to the U.S. Food and Drug Administration, or FDA, for analysis.
EMAIL SCAMS
Email scams raising money for Corona victims is the newest scams since the virus has impacted the world. This is

not

a Gofundme Campaign. It is run by a shady website gofundme.org.